Housing Data Paints Conflicting Picture
Published on Tuesday August 4, 2009 at 4:31 am
Mortgage rates have remained relatively stable. How has this trickled down into the housing market? In a nutshell, housing prices are stabilizing, but it's unclear whether the market has yet to bottom. In addition, national averages mask regional differences, and soft spots remain in certain markets, and in high-end housing.
Let's zoom in on some specific data points: "The Standard & Poor's/Case-Shiller price index, a closely watched gauge, showed that single-family-home prices rose 0.5 percent from April to May, the first monthly increase since 2006…The federal government reported an 11 percent rise in new-home sales from May to June, the largest monthly gain in nine years. Sales of previously owned homes jumped for the third straight month, up 3.6 percent in June." Meanwhile, "The median sales price was $206,200, down from $234,300 a year and $219,000 from May."
At face value, these statistics seem to portray a market that has entered the recovery stage, but they should be interpreted in context. First of all, "Home sales quite often jump in June, the height of the spring selling season." This June was particularly bountiful because of the federal government, which is offering an $8,000 tax credit for first time buyers, and implemented a de facto moratorium on foreclosures.
However, given the seasonality of the housing market and the fact that both of these government programs are slated to expire soon, "It makes more sense to compare them [home sales] with the same month a year ago. That comparison is less kind — sales were down 21.3% from June of 2008. Seasonally unadjusted data show a total of 36,000 new homes were sold last month, the lowest June total since 1982." It should also be pointed out that the data is derived from a survey – rather than from actual numbers- and carries a margin of error, such that the true figure could very well be negative.
There are also significant regional disparities contained in these numbers. "Sales were strongest in the Midwest, where they jumped 43 percent from May's total. Sales climbed 29 percent in the Northeast and 23 percent in the West. They declined slightly in the South." In California, Florida, Nevada, and Arizona, prices continue to fall, and foreclosure rates are rising.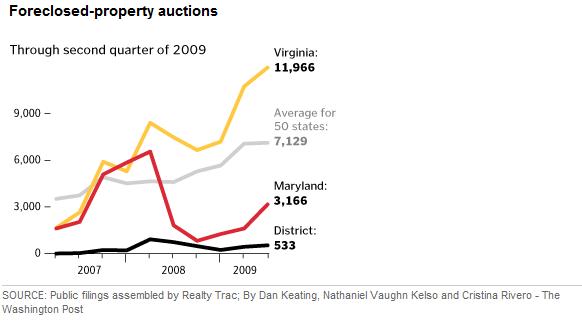 The high-end market, meanwhile, continues to tank, due mainly to a delayed bursting of the bubble and changes in lending standards. "The supply of unsold homes priced above $750,000 swelled to around 17 months in June, up from a 14.5-month backlog one year ago. A recent forecast by analysts at J.P. Morgan Chase & Co. said it would take until at least 2012 for the expensive-home market to recover and that peak-to-trough declines could surpass 60%, compared to 40% for the rest of the market."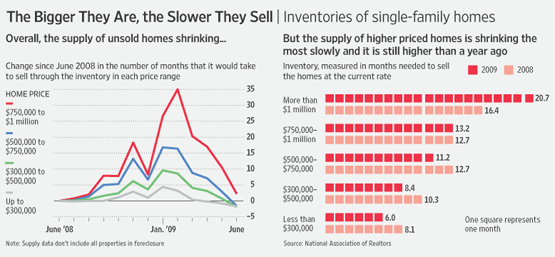 It's quite obvious that from an historical standpoint, then, the housing market remains quite depressed. But what about the future? " 'The freefall is over,' says Dean Baker of the Center for Economic and Policy Research." Warren Buffet agrees: "Most of the problems in the housing market will be over in 18 months or something like that." Alan Greenspan, however, thinks that "Home prices had stabilized only temporarily. 'It is possible that could get a second wave down.' " Other analysts point out that for as long as the overall economy – specifically the employment situation – remains weak, the housing market will fail to recover. In addition, should interest rates rise suddenly and/or another wave of foreclosed properties hit the market, the market could certainly trend downward.
Homeowners May Want to Refinance While Rates Are Low
US 10-year Treasury rates have recently fallen to all-time record lows due to the spread of coronavirus driving a risk off sentiment, with other financial rates falling in tandem. Homeowners who buy or refinance at today's low rates may benefit from recent rate volatility.
The following table shows current 30-year mortgage refinance rates available in . You can use the menus to select other loan durations, alter the loan amount. or change your location.
Leave a Reply
Free Mortgage Calculator for Your Website!
Would your customers benefit from a free mortgage calculator on your website? Learn how to add a calculator to your website in less than a minute - FREE!