Loan Modification Program Yields Mixed Results
Published on Sunday July 25, 2010 at 1:52 pm
The government has just released updated "report cards" for most of the participants in its HAMP mortgage modification program, and the results are…interesting. At this point, it can be labelled neither success nor failure.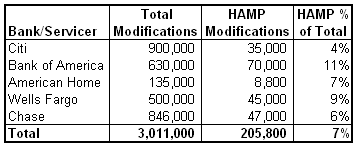 As you can see from the chart above, an impressive 3 million modifications have been completed by the country's five largest lenders, with Citi and Chase leading the pack, and Wells Fargo and Bank of America not far behind. However, there are a couple of disappointing sub-trends buried in this figure. First of all, the vast majority of modifications have been completed privately, outside of the government's HAMP program. Second, the majority of borrowers that receive loan modifications ultimately go on to default anyway, which means the true number of borrowers that have been helped is far below the 3 million documented by the industry.
Let's begin with the first issue- that loan modifications have been a largely private effort. On the one hand, this could be viewed positively, since only $250 million of public money (a small fraction of the the $40 Billion that was initially allocated by the government for the program) has been spent to date. This means that borrowers are being helped without the use of taxpayer funds. On the other hand, I think the correct – albeit cynical – interpretation of this situation is that lenders are deliberately circumventing the government in order to offer their own, watered-down modifications. Think about it – why would lenders pass up "free" incentive money from the government, all else being equal? The explanation is that the government's modification program (HAMP) offers terms that are more favorable to borrowers than lenders wish to offer.
Since I'm on the subject of HAMP, it's worth pointing out that only 390,000 borrowers have received permanent modifications. While this is nothing to scoff at in absolute terms, it falls far short of the number of borrowers that could benefit from assistance (10 million?) and even short of the government's projection that 3 million borrowers would receive assistance from the program. The WSJ recently mused, "So how big a flop is HAMP? Modifications still face a high re-default rate, largely because borrowers still have heavy debt loads. Some borrowers have found themselves worse off because they do everything possible to get a trial modification, only to be turned down." Still, the author of the story conceded that at the very least, the government's program galvanized the private sector into action.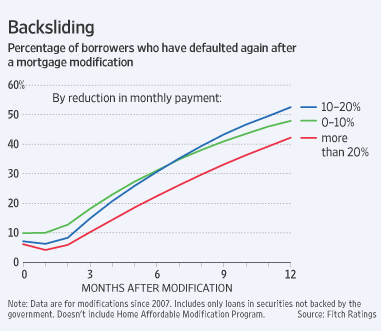 As I alluded to above, however, a significant portion of borrowers that receive modifications will ultimately default, or have already defaulted. As you can see from the chart above, half of borrowers (regardless of the extent of the modification) will default on their new mortgages within 12 months. That makes me wonder if the lull in foreclosures we have seen in some states – which have been attributed to loan modifications and other proactive efforts by lenders – might in fact be a mirage, and could perhaps re-emerge in a year or so, after a wave of re-defaults.
While the process of obtaining a loan modification is admittedly frustrating, lenders continue to grant them en masse, namely because they have determined that it is in their financial interest to do so. Thus, if you still think you're entitled to a modification – whether private or HAMP – you should continue to harangue your lender. If your circumstances warrant it, chances are you will be granted one eventually.
Homeowners May Want to Refinance While Rates Are Low
US 10-year Treasury rates have recently fallen to all-time record lows due to the spread of coronavirus driving a risk off sentiment, with other financial rates falling in tandem. Homeowners who buy or refinance at today's low rates may benefit from recent rate volatility.
Are you paying too much for your mortgage?
Find Out What You Qualify For
Check your refinance options with a trusted lender.
Answer a few questions below and connect with a lender who can help you refinance and save today!
Leave a Reply
Free Mortgage Calculator for Your Website!
Would your customers benefit from a free mortgage calculator on your website? Learn how to add a calculator to your website in less than a minute - FREE!