Is the Housing Market Stabilizing?
Published on Tuesday June 9, 2009 at 3:39 am
This last week saw a flurry of data, painting a predictably contradictory picture of the housing market. The debate over whether housing prices have stabilized now looks something like this: "House Prices Have Bottomed;" "No They Haven't;" "Yes They Have;" "Not Yet!" That's not to say that the conclusion is that in fact housing prices have not yet bottomed, but instead that "evidence" can be found to support either conclusion and also that there is unreported data muddying the picture.
On the plus side, pending home sales rose 6.7% nationally in April, and even faster in some regional markets. Previously owned U.S. homes rose by 2.9% over the same period. Meanwhile, "Existing-home inventories are down to 9.8 months' supply, higher than their long-term average of six months, but off their recent peak of 11.3 months." [See chart below courtesy of WSJ] In other words, almost all of the data points appear to be either improving, or at least slowing in their rate of decline…..that is, until you look at what's not being directly captured by the numbers.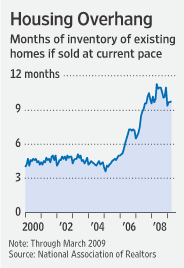 First of all, the data itself is prone to manipulation, since much of it is self-reported, rather than compiled in accordance with some kind of universally-accepted standard. For example, pending home sales are being booked earlier and earlier, such that a smaller percentage are ending in actual sales. "A 33-percent jump in pending sales from February to March, for instance, did not bring a corresponding increase in closings a month later. In fact, April closings were up less than 4 percent from March." As a result, "closed sales went from 89 percent of the previous month's pending sales in June to 80 percent in July and have ranged from 60 percent to 84 percent since."
Then there is the inventory data, which by its very nature doesn't reflect homes whose owners would like to sell, but haven't yet been listed. "There is a massive shadow inventory of bank- and investor-owned homes, enough to push existing-home supply to 12 months, notes one economist.
Ultimately, a full housing recovery is unlikely for as long as house prices remain depressed. The data and analysis surrounding this question is perhaps the most nuanced.
On the one hand, "The Federal Housing Finance Agency's quarterly purchase-only house price index shows nationwide home prices fell 0.5 percent from the fourth quarter 2008 to the first quarter 2009," compared to a decline of 3.3 percent in the previous quarter. An analysis of San Diego, where the housing market collapse was especially sever, indicated that prices are now well below their long-term average.
On the other hand, "Healthier regions, including 'many parts of the Northeast, have only just begun to suffer price declines…Together, these factors could drag on prices through much of 2010, pushing the Case-Shiller index to a total decline of 40%.' " (It has already declined by 27%). Banks are certainly conscious of this possibility and are taking longer to approve mortgages. Given that interest rates are now rising and mortgage applications are leveling off, it could be a while longer before the market really stabilizes.
Homeowners May Want to Refinance While Rates Are Low
US 10-year Treasury rates have recently fallen to all-time record lows due to the spread of coronavirus driving a risk off sentiment, with other financial rates falling in tandem. Homeowners who buy or refinance at today's low rates may benefit from recent rate volatility.
The following table shows current 30-year mortgage refinance rates available in . You can use the menus to select other loan durations, alter the loan amount. or change your location.
Leave a Reply
Free Mortgage Calculator for Your Website!
Would your customers benefit from a free mortgage calculator on your website? Learn how to add a calculator to your website in less than a minute - FREE!