WP-Mortgage Calculator Widget / Plug in for WordPress
Published on Tuesday May 13, 2008 at 12:59 am
We recently created a free Mortgage Calculator plugin that you can easily install in any WordPress blog in under 5 minutes!
How it works:
Hit the calculate button and see the results in real-time on your site. This helps you keep your site visitors focused on your site and your inventory – instead of sending them elsewhere.
If you look at the left sidebar of this blog you can see it in action, and here is an image of the calculator in use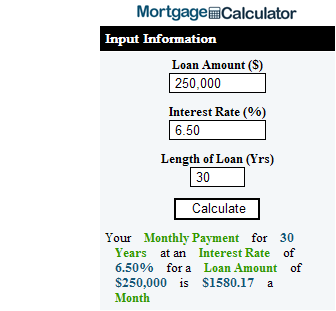 Download WP-MortgageCalculator Now:
You can download WP-Mortgage Calculator here now! 🙂
Installation instruction for WP-MortgageCalculator:
This free calculator installs in the sidebar of your WordPress blog as a widget. The calculated results appear directly on your website, so you keep your readers engaged and active on your website!
——————————————————
Step 1: Unzip the WP-Mortgage Calculator package and
put in it in your plugins folder located at
wp-content -> plugins
——————————————————
Step 2: after unzipping the files upload them to your remote server using an FTP program.
The (4) files included in this package are
mc_calculate.php
mc_linktext.php
mortgage-calculator-logo.gif
mortgagecalculator.php
——————————————————
Step 3: log in to your WP admin panel, located at
/wp-admin/
Click the plugins link, which will send you to
/wp-admin/plugins.php
and enable the Mortgage Calculator Widget.
——————————————————
Step 4: For older versions of WordPress, inside the WP admin panel click on presentation. Then click on the Widgets sub-menu item. If you are using WordPress 2.5 you should click on Design then Widgets.
Drag the Mortgage Calculator and any other needed widgets (categories, archives, links, pages, etc.) into Sidebar 1.
Click "Save Changes" and your Mortgage Calculator should be live.
Can't see widgets? Your WordPress theme may not be widget aware. To make it widget aware you need to ensure your theme has a functions.php file and that your sidebar is theme friendly. This Automattic page describes how to make themes widget friendly.
——————————————————
Want an easier way to install a mortgage calculator on your site? Perhaps you could try using one of our other linking options – like posting HTML into one of your blog posts.
Have questions, comments, or feedback? Leave them below.
Thank you & enjoy!
Homeowners May Want to Refinance While Rates Are Low
US 10-year Treasury rates have recently fallen to all-time record lows due to the spread of coronavirus driving a risk off sentiment, with other financial rates falling in tandem. Homeowners who buy or refinance at today's low rates may benefit from recent rate volatility.
The following table shows current 30-year mortgage refinance rates available in . You can use the menus to select other loan durations, alter the loan amount. or change your location.
2 Comments on "WP-Mortgage Calculator Widget / Plug in for WordPress"
Stephan Smith Says:
May 15th, 2008 at 5:08 am

Wow this rocks…the size automatically adjusted to the width of my sidebar. I have had trouble installing some widgets in the past, but this was a piece of cake. Thanks a bunch for this 🙂

Thank You MortgageCalculator.org Says:
July 7th, 2008 at 12:25 pm

[…] On the right is an example of the mortgage calculator in action. And if you prefer you have this calculator in a form of WordPress Plugin. NOTE TO MORTGAGECALCULATOR.ORG CREW: I would strongly recommend changing changing/adjusting CSS […]